Discover more from The GC Minute
We are the Gold Coast's premier local newsletter delivered FREE every Thursday. News you should know.
⚡️GC Storm Alert | Cavill Ave. 2.0 | The Biggest iPhone Upgrade In Ten Years | Snowhere: The 2023 Aussie Season and More!
Today's newsletter is 1295 words: 5 minute read.
Happy Thursday!
The last day of your work week before a long weekend and also the last day of winter, though it already feels like spring.
⚡️GC Storm Alert
---
🚨Public Holiday Alert: Tomorrow is the Gold Coast Show Public Holiday
---
In today's email
Surfers 2.0: The big Cavill reno plans connecting the ocean to the river

The Biggest iPhone Upgrade In 10 Years: To be announced on September 12

Snowhere: Was the 2023 Australian winter season with ski resorts shutting early

Trending: Donald Trump's Tinder Pic..?

Around The Web (Snippets): The Entire Spanish Women's World Cup Winning Team Quits, FREE family events on the GC for Science Week, Crafted Beer Festival back at Broadbeach, Tom Tate goes for gold on our behalf and more!

*A New Section* Local Legend Callouts
We are a local Gold Coast reader-supported weekly newsletter. Please share us with a friend 🙌
---
Live Gold Coast Housing Prices
1.
One Big Thing: Cavill Avenue 2.0
What's Happening?
A complete facelift for Surfers Paradise is in the pipeline.
Why It Matters
Surfers Paradise, the longtime heart of Australia's vacation dreams for many years in the mid to late 1900s, before it started to get a bad rap, has been at risk of fading into a tired and comfy memory for a few decades.
Zoom In
The Council has dedicated $40 million for a complete Cavill Mall overhaul

Main areas in focus: Cavill Avenue, Cavill Mall, and The Esplanade.
According to community feedback, critical areas of improvement that are needed as a priority include pedestrian mobility, family-friendliness, and public safety.
Six themes emerge as a roadmap for the project, focusing on creating Active Public Spaces and Shade and Trees in particular.
The Big Picture
The project aims to preserve Surfers Paradise's nostalgic elements while rebuilding it as a world-class tourist destination and adapting it for modern, local life.
What the People Say
Mayor Tom Tate encourages the public to have their say.
"It's time to re-imagine Surfers Paradise."

"This is your chance to shape its future."
What To Look For Next
Public consultation tagged 'Have your Say' is set for September 2023, which you can find more about here, with concept design finalisation set to be in place by December 2023.
---
---
2. September 12
- The Biggest iPhone Upgrade Announcement In Ten Years
A Global Upgrade
Mark your calendars for September 12.
Apple has announced an event on this date, including details about its first iPhone release since the EU forced it to align its charging ability to USBC.
What's Happening?
Apple is primed to reveal its all-new iPhone 15 series.
Also to be released at the event are the new Apple Watch Ultra, AirPods, and possibly an iPad, all with EU-compliant USB-C ports.
Why It Matters
Aussies will hopefully enter an era of universal tech compatibility thanks to EU regulations.
Zoom In
Apple's highly anticipated shift to USB-C isn't just a technical tweak; it's an EU-imposed mandate creating a new global standard.
The Big Picture
This launch isn't just about Apple; it's a global shift toward device standardisation and interoperability.
It will also save people money and the environment with less need to move to whatever they would have developed next that we'd all need to change over to.
What To Look For Next
For now, the upgrades are almost guaranteed to be announced for the EU products, while we should watch closely to see if and when Apple decides to do the same here in Australia.
---
3.
Snowhere: The 2023 Winter Season
Chill Factor
The Australian winter sports scene slid a slippery slope this season, facing record-low snow levels and early resort closures.
What's Happening?
In what is officially one of the top three worst ski seasons on record, Australian ski resorts have been left out in the cold early this year.
Mount Baw Baw will close by September 3, with an average snowpack of just 20cm with one trail and two lifts open.

Mount Selwyn closed back on August 25 (live cam today)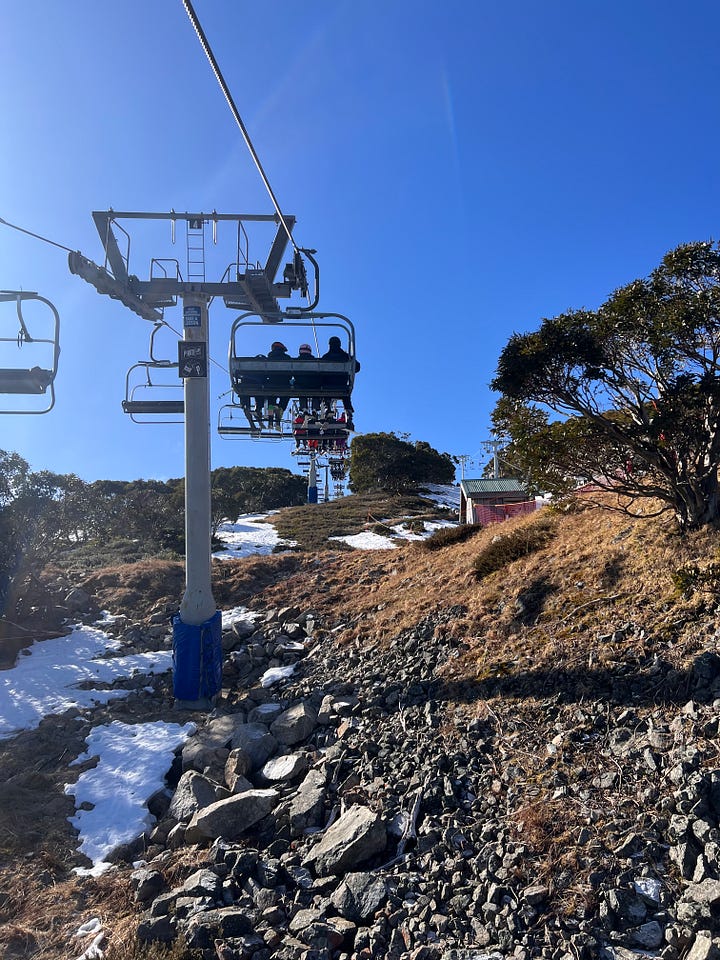 Why It Matters
An Australian winter without snow isn't just odd; it's an economic cold front for local tourism.
Most years, the midwinter snowline hovers between 1300 m and 1500 m on mainland slopes sheltered from direct sunlight.
However, 2023 has thrown a frosty curveball, showing virtually no snow below an elevation of 1600m since mid-August, which is supposed to have tonnes of snow.
Zoom In
According to Snowy Hydro, the second-highest measurement point, Deep Creek, recorded a 'zero cm' level in August.
This is only the third time such dismal numbers have been recorded here since 1954.
In addition to the snowy spots having a warm winter, so have the cities across the country.
Here are the 2023 winter temperatures and averages:
The Big Picture
This is more than a seasonal hiccup; it's a symptom of a changing climate affecting both hemispheres.
In the Snowy Mountains, the worst snow season occurred in 1973, with a season that lasted just three weeks.
Coming in second was 2006, followed by 2023 as the third worst ever.
What the People Say
Confused by a recent trend of less data being collected, the Protect Our Winters crew has questioned why we can't get a better look at what's occurring.
Data collected in 2022 was sparse compared to previous years, with only four records collected from the 1st of May to the 31st of July.
This is a reduction of over 60% compared to the average of the previous decade (2012-2021).
What To Look For Next
If you're planning a late-season getaway, check for resort updates regularly, as it sounds like someone, such as Mount Buller, may close sooner than later.
---
4. Trending
The photo that broke the internet this week.. Mugshot or Tinder pic?
---
5. Around The Web (Snippets)
---
Local Legend Callouts
🤸🏻‍♀️ Hats off to Liz and her not-for-profit gymnastics club in Ashmore, who, after two years of setting up and packing away daily, are about to move into a new permanent facility, finally. Your dedication and values are inspirational, Liz!
Got a local shoutout? Contact us here.
---
Thanks for reading The GC Minute! Please sign a local up here 🙌